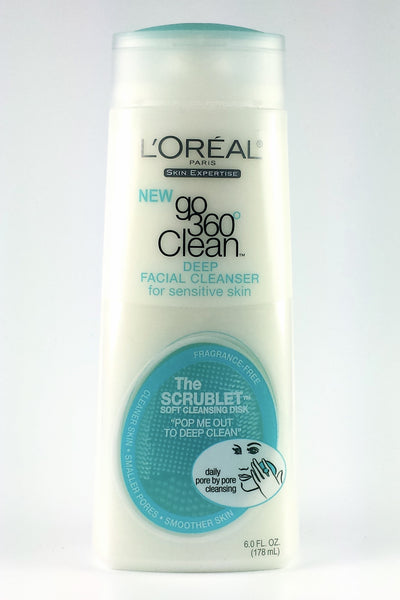 L'Oréal Go 360 Clean Deep Facial Cleanser for Sensitive Skin
This product is temporarily unavailable
Go 360° Clean offers a complete range of four expertly formulated, high-foam cleansers that are perfectly calibrated to perform with the Scrublet™. The Deep Facial Cleanser for Sensitive Skin is a soap-free lotion cleanser that treats sensitive skin with extra gentle care. The fragrance-free, foaming formula features glycerin and shea butter to condition skin while gently and effectively cleansing skin of dirt and makeup. Also try the cleanser in a Gel, Cream or Exfoliating Scrub formula.
Benefits
Smaller pores: Go 360° Clean shrinks the appearance of pore size and refinishes the skin's surface to reveal skin with more clarity.
Deeper cleansing: Unique formulas reach down deeper to every last pore for a deep, deep clean. Keeps pores clean day after day.
Softer skin: Sweeps away dead skin cells for an extraordinary softening and smoothing effect
Easy-to-use: Scrublet™ cleanses pore-by-pore with a fuss-free cleansing process.